Roy Raymonde was a English cartoonist whose work appeared in many (UK) national and also international publications. He was particularly well known for his long association with Playboy Magazine (US and German editions) and Punch Magazine. In the 1960s his features for The Sunday Telegraph were widely recognised, and at the same time he was contributing cartoons regularly to other publications including Private Eye, Reader's Digest, The Daily Sketch, Mayfair Magazine and several trade publications. As his career progressed he became celebrated for his fluid comic drawing style, which was to evolve into the lyrical and flamboyantly colourful genre seen in his work for Playboy. It was his masterful depiction of small gestures, details and expressions that added a heightened dimension to his cartoons and have inspired a generation of comic illustrators.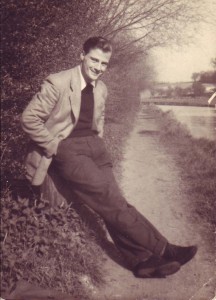 Biography Roy Stuart Raymonde was born in 1929 in Grantham. His father Barry, was a freelance advertising agent and a theatrical impresario. By the time Roy was a toddler the family were living in Bristol. Barry had a business connection with the Bristol Old Vic. Roy's mother Patricia, had been a dancer and had met Barry through the theatre. In 1938 whilst Patricia was pregnant with Roy's younger sister Patsy, Barry contracted pneumonia and died suddenly, leaving the young family destitute. In this tough situation Patricia was forced to take a series of menial jobs and was seemingly constantly moving on until eventually settling in North London in the early years of the Second World War. The Blitz was at its height and Raymonde often recounted the story of how one night, the house they were living in was demolished by a German land mine. Fearing that he had been killed, the firemen feverishly dug through the rubble only to find him soundly asleep with the blankets pulled over his head. At the age of 15 Raymonde attended Harrow art school. Due to the peripatetic nature of his upbringing and the uncertainties of war this was to be his 16th school. It happened that one of his tutors at Harrow was the young and yet to become famous Gerard Hoffnung. His work was to become an important inspiration to young Raymonde. He recounted a tale of how he was almost expelled for the adolescent prank of adding humorous captions to one of Hoffnung's demonstration paintings. His place at the school was however, saved by Hoffnung himself, who argued that the captions demonstrated a latent cartoonist's talent. They remained friends until Hoffnung's untimely death in 1959. After art school Raymonde took a job in commercial art studio. Whereas nowadays we rely upon photographers, in those days much of the artwork for print (including advertising) was hand-drawn by talented commercial artists. Raymonde often said that he learnt more about drawing in a few weeks amongst professionals than he ever learnt in two years of art school. At 18 he was called up to do National Service. The Army, on seeing that he was an artist, gave him a job in Intelligence interpreting photoreconnaissance. He served for two years in Malaya.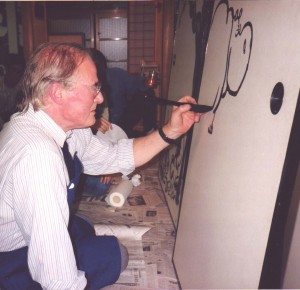 Career Upon demobilisation Raymonde took a job at Charles Gilberts's advertising studio in Fleet Street, where he was to stay for the next 10 years. He however, already nurtured an interest in cartoons and being located in the midst of newspaper-land he started free lancing in his spare time. His first works were published by Tit-Bits. He then started contributing to Lilliput and the Daily Sketch. Drapery and Fashion weekly bought a weekly feature about a shop girl called 'Lil' which was to continue for the next 30 years. In 1953 he met and married Patricia Eytle, a black Guyanese immigrant. At that time it was unusual and very much frowned upon to marry inter-racially, so it was a courageous decision on both their parts and founded a marriage which was to last for the next 56 years.
At this time Patricia had been studying music at the Guildhall school and Raymonde had been helping the school with stage decorations. Patricia had three brothers who were eventually to make quite a mark in England. Ernest Eytle was a barrister and keen cricketer who played for Leary Constantine's WI team in 1944. He was to become the BBC's cricket correspondent throughout the 1950 and 1960s. Tommy Eytle was a musician and singer, then became an actor in film and TV. Les Eytle was to become the first black Mayor and freeman of Lewisham.
By 1960, Raymonde had been published by Punch and in 1961 he was selling a regular cartoon strip to the newly founded Sunday Telegraph called Patsy and John. Other publications were buying his work so he took the decision to leave his day job and become a full time professional cartoonist. He published two books in 1961, The Constant Minx and More Constant Minx about woman's power to beguile man – perhaps presaging his later work for Playboy. Throughout the decade The Sunday Telegraph kept buying his features. There were Raymonde's Blooming Wonders, a sharp satirical look at political characters of the time, likening them to Victorian botanical specimens. For these, he received quite a few letters of opprobrium from partisan readers. Raymonde's Rancid Rhymes were a foray into the world of comic poetry. There was a feature called 'Them' and another about scientists of the time called Boffins at Bay. This came at a time when there were many quite valid concerns about Porton Down's secret research establishment and 'Mad Scientists' out of control. On the strength of this new-found freedom, he and Patricia bought a thatched collage in a north Essex village where he was to live for the rest of his life. In the late 1960s he also started contributing to Mayfair Magazine on a regular basis. Under the editorship of Kenneth Bound it was trying to get away from the pure 'girlie magazine' and include laddish interests such as fast cars, smart city apartments and humour. In 1971 Raymonde also started sending sample cartoons to Playboy in America. Michelle Urry had recently become the cartoon editor and was helping to create the classic era of the vintage Playboy cartoon. Raymonde's work was immediately accepted under the proviso that Playboy was to be the only men's magazine he worked for. From then on he provided a full-page colour cartoon almost every month for the next 30 years. The 1980s saw two collaborations with his good friend and neighbour, Robert Holles. Holles was a playwright, screen-writer and novelist of note. Together they thought that they might try their hand at some humorous illustrated books. Holles had been a soldier for a long period in his youth and later a keen village cricketer. In 1983 he published the Guide to Real Village Cricket and in 1985 the Guide to Real Subversive Soldiering. Enhanced by Raymonde's drawings both books proved to be popular. At this time in the 80s Punch Magazine had started a new long running feature called Doc Brief. Written by Dr Robert Buckman it was a droll look at the human condition from a medical perspective. Raymonde produced a series of wonderfully wacky illustrations, which he said gave him much pleasure. The 1990s saw an association with the Far East. Raymonde had been invited by Kyoto University to visit Japan in the late 1980s as part of an Anglo-French cartoonists delegation. This was to become a regular occurrence. In 1991 he won gold prize in the Kyoto International Cartoon Exhibition and the next year bronze. He was to return annually acting as a judge and lecturing. He also visited South Korea on a delegation during this period. In 2002 on returning from Japan Raymonde suffered a stroke. This left him visually impaired and unable to concentrate for long periods. From this time on he was unable to work.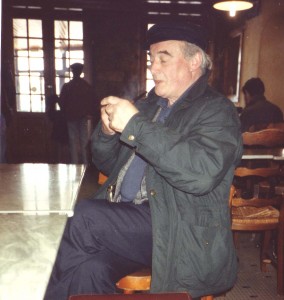 Resumé Roy Raymonde, in spite of his erratic schooling, was an articulate and erudite man. A voracious reader, he was particularly fond of poetry. He had a fine collection of antiquarian books. He was a quietly spoken man but had a sharp and incisive wit. Though conservative in his political outlook, he was interested in, and able to form lasting friendships with people from all walks of life. He and his wife, Patricia spent much of their spare time in Venice about which they had become passionate and where they had acquired many friends. Amongst artists that he admired, Gerard Hoffnung was an early influence as was Thomas Rowlandson – he enjoyed collecting 18th century prints. He was also fond of the work of André François, Tomi Ungerer, Quentin Blake and Adolf Born.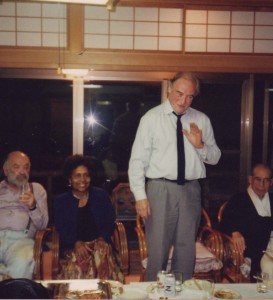 Technique Raymonde's technique – like that of many cartoonists of the period – was to use waterproof Indian ink applied with a steel dip pen. Drawings were first lightly roughed out in pencil then inked in, the pencil marks erased, then shading or colour applied. For the black and white drawings he would use non-waterproof black ink or black watercolour for shading. The colour drawings used a variety of materials from watercolour and gouache to radiant inks and liquid acrylics. Whatever would give him the vibrant effects he was looking for. Rough drawings of cartoon ideas were firstly sent to editors for approval. When approved, a final drawing was made for publication. In those days all was done by post (including those to America) as there was no email. Raymonde's original artworks have been much sought after and hang in both public and private collections. These include the Victoria & Albert Museum, the British Cartoon Archive, the Simavi Foundation Cartoon Museum (Istanbul), Kyoto Seika University (Kyoto), and the Ritsumeikan Peace Museum. Roy Raymonde is survived by his wife Patricia, son Paul and daughter Kate.
Save
Save
Save
Save
Save